WE LOVE WOOD
We take anything from a tree! That's right, we are happy to take branches, trunks, brash, chip and logs. We do not accept treated or processed wood (e.g. fence panels or decking). We can take the occasional root but we struggle because we can't chip them or compost them.
If you bring chip and logs, great, no charge for you and less work for us. For wood other than chip or logs, we charge, and use our machinery to convert it. This is now biomass, which gets regularly transported to local green electricity power-stations. Biomass now accounts for around 12% of the UK's electricity production, with scope for that to increase in the future.
Please note: Unfortunately, we cannot sell small volumes of logs for home fires/log burners or hobbies. We only sell articulated lorry loads.
GREEN ENERGY
Biomass is a great renewable energy source:
Clean energy
No harmful emissions
Abundant and renewable
Reduces our use of fossil fuels
Reduces use of landfill
Provides an economic incentive to manage woodland, which improves biodiversity
Off to the power station!
SUPPORTING TREE SURGEONS
We love what we do and how our business can have a positive effect on our environment. Next time you are pitching for a job why not mention what will happen to the client's waste. Their waste will be going to a fully permitted site on the way to producing green electricity.
Tree surgeons producing good quality woodchip and logs are welcome to use our tip yard free of charge.
Please register to use the chip and log yard through the Contact page. It is important to list every vehicle as we use ANPR (number plate) cameras to allow access.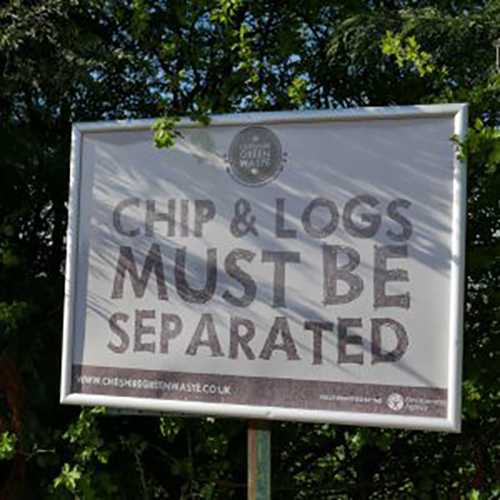 Please separate woodchip and logs
TREE SURGEONS WE WORK WITH
We don't mind if you use us every day, or just pop in when you are in the area.
If you like what we do, please spread the word on ARBTALK, the discussion board for tree surgeons.